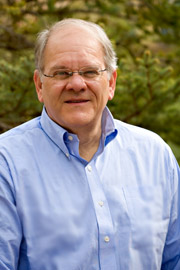 Daniel (Dan) Lake Dolgin
Dan Dolgin is a member of the Board of Directors and the Investment Committee of Wind River Trust Company and has served as such for over ten years. Additionally, he is Chairman of the Audit Committee. Since leaving the full-time practice of law in 1989, Dan has invested in and advised businesses engaged in logistics, decision-support and optimization (primarily for the trucking industry), commercial printing services, radio broadcasting, web-based distribution of industrial chemicals and real estate. In 1997, he co-founded a not-for-profit corporation, now known as PowerMyLearning, Inc. (PML), advancing educational equity by linking students, parents and teachers into an inter-connected learning triangle.
Before leaving law practice to pursue investment opportunities, Dan served as a corporate lawyer at McDermott, Will & Emery, where he was a capital partner and head of the New York office. Before his tenure at McDermott, Will & Emery, Dan spent eight years at Towne, Dolgin, Sawyier & Horton, a commercial law firm of which he was a co-founder. Before that he practiced law as an associate for two years at a New York law firm.
Dan received a Bachelor of Arts degree from Columbia College and a Juris Doctor from Columbia Law School. In 2001, he received the Equity Champion Award from Educational Equity Concepts for his work with Computers for Youth, now known as PowerMyLearning. In 2015 he and his wife, Loraine F. Gardner, received the Outstanding Community Service Award from Community Impact, Inc., a community service organization of Columbia University. Dan served as a member of the board of directors and an officer of the Columbia College Alumni Association, and as a member of the board of directors and of the audit committee of a publicly traded telecommunications equipment manufacturer. He chairs the Audit Committee of The University Club of New York. Dan also serves as a director of the Pushcart Prize Fellowships, a not-for-profit firm that supports the work of the Pushcart Press in granting literary awards. He is a trustee of the Mayday Foundation.